Buy this Toolkit with confidence!
All contents of this collection are 100% guaranteed. If you're not satisfied with your purchase, we refund—no questions asked. See FAQ page for terms and conditions.
Improve Business Structure & Quality
Reliability and business continuity are essential for the success and survival of any organization. Service and infrastructure changes can have a negative impact on the business through service disruption, but Change Management enables the service provider to add value to the business by: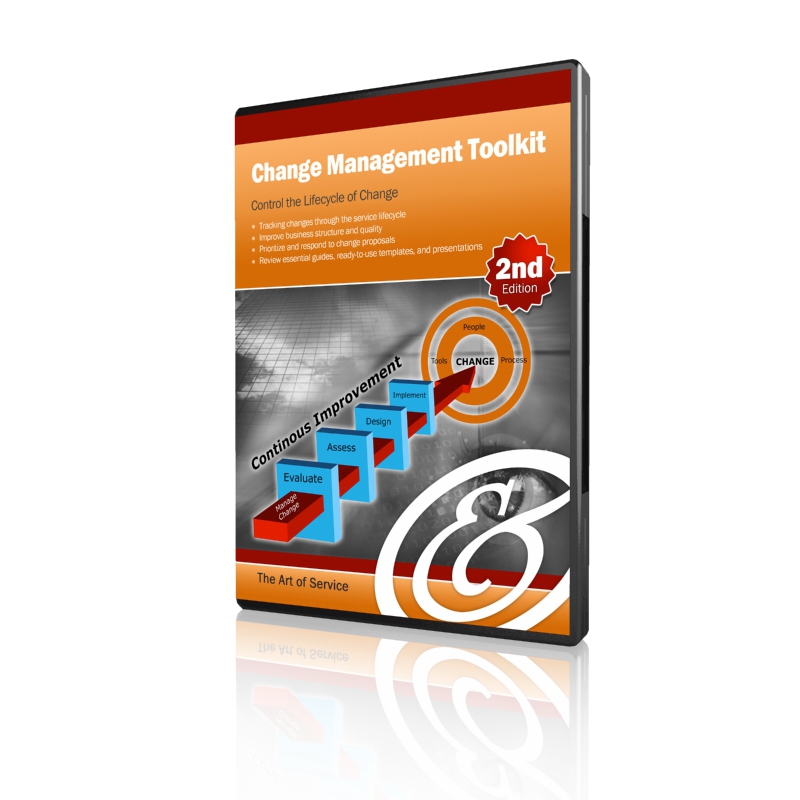 Prioritizing and responding to change proposals;
Implementing changes that meet the customers' agreed service requirements, while optimizing costs;
Contributing to meet governance, legal, contractual, and regulatory requirements;
Reducing failed changes and therefore service disruption, defects, and re-work;
Delivering change promptly to meet business timescales; and
Tracking changes through the service lifecycle.
The Art of Service has designed this toolkit to introduce Change Managements' main concepts and provide you with the tools to successfully create a workable Change Management culture in your organization. We provide you with step-by-step guides, templates, and best practice examples that will enable you to meet this challenge head on.
---
Control the Lifecycle of all Changes!
Change Management is the process responsible for controlling the lifecycle of all business changes. The primary objective of Change Management is to enable beneficial changes to be made with minimum disruption to IT Services and the business as a whole. The purpose of the Change Management process is to ensure that:
Standardized methods and procedures are used for efficient and prompt handling of all changes.
All changes to service assets and configuration items are recorded in the Configuration Management System.
Overall business risk is optimized.
Respond to your customers' changing business requirements while maximizing value and reducing disruption today with this on-trend Toolkit! IT Service Managers looking to improve the response to business and IT requests for change that will align services with business needs and goals should look no further!
This second edition toolkit provides the answers to all of your Change Management and Change Lifecycle questions, and is designed to provide a guiding hand to assist you in improving your knowledge and understanding of Change Management processes by offering a step-by-step, easy-to-follow roadmap. It also includes easy-to-use templates, assessments, presentations, and documents that can be adapted to your organization's requirements.
The Art of Service has designed this toolkit to introduce Change Management concepts, and provide you with the tools to successfully create a workable Change Management culture in your organization.
The PowerPoint presentations can be used to educate staff as the basis for management presentations or when making business cases for implementation.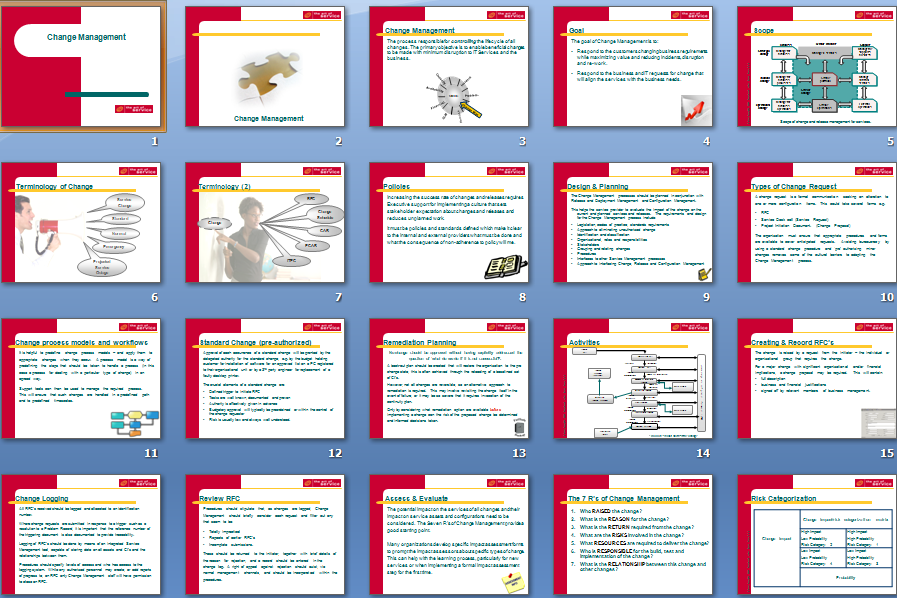 The supporting documents and assessments will help you identify the areas within your organization that require the most activity in terms of change and improvement, and will provide a starting point when designing and implementing new designs, policies, and procedures.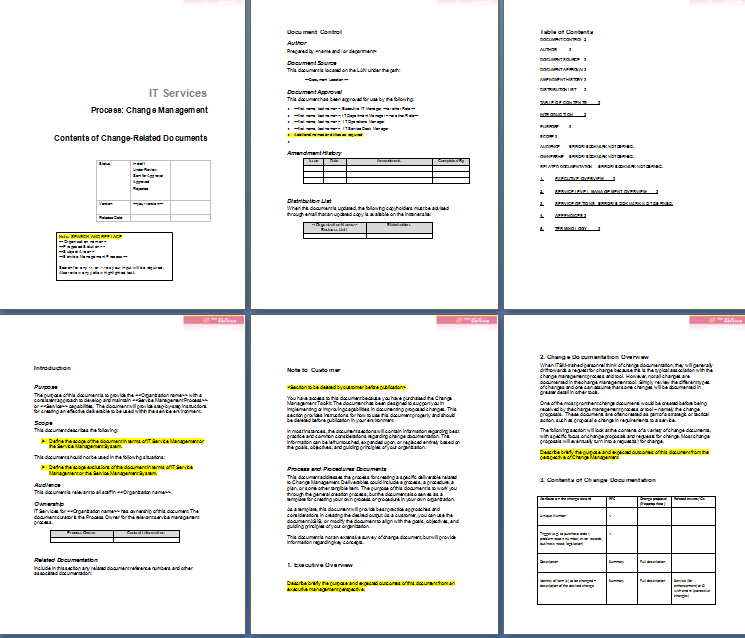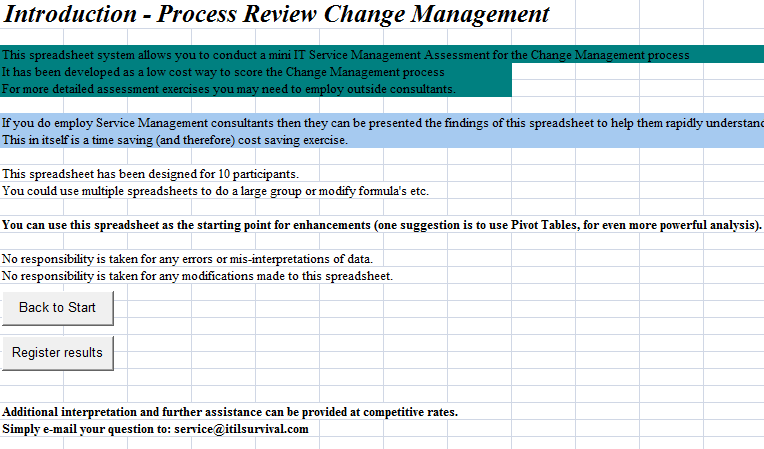 The additional resources will enable you to improve your organization's Change Management understanding and knowledge base.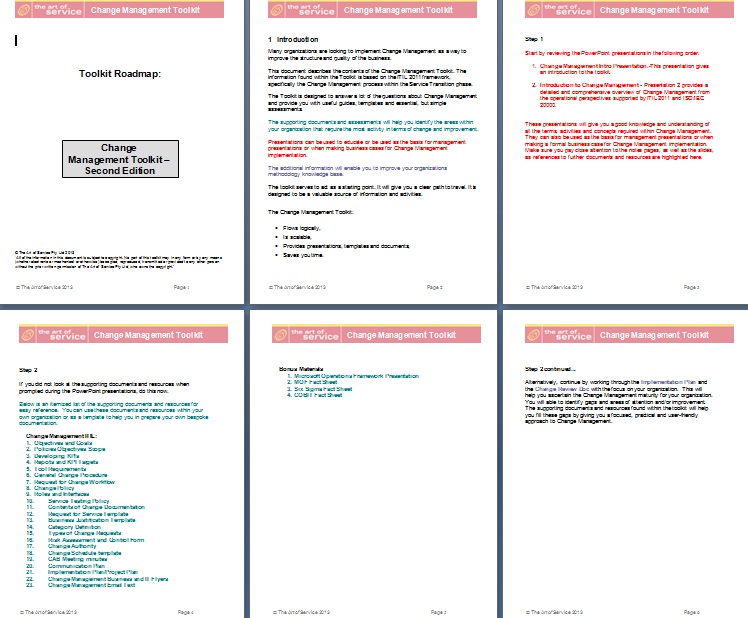 The Complete Toolkit Includes:
Toolkit Roadmap- Change Management.doc

Step 1

Change Management Toolkit Introduction Presentation.ppt
Introduction to Change Management.ppt

Step 2

Change Management-Process Assessment.xls
Change Management-Business and IT Service Mapping.doc
Change Management-Objectives and Goals.doc
Change Management-Policies Objectives Scope.doc
Change Management-Developing KPIs.doc
Change Management-Reports and KPI Targets.doc
Change Management-Tool Requirements.doc
General Change Procedure.doc
Request for Change Workflow.doc
Change Policy.doc
Change Management-Roles and Interfaces.doc
Change Management-Service Testing Policy.doc
Contents of Change Documentation.doc
Request For Change (RFC) Template.doc
Change Management-Business Justification Template.doc
Change Management-Category Definition.doc
Types of Change Request.doc
Change Management-Risk Assessment and Control Form.doc
Change Authority.doc
Change Management-CAB Meeting minutes.doc
Change Schedule template.doc
Change Management-Communication Plan.doc
Change Management-Implementation Plan_Project Plan.doc
Change Management Business and IT Flyers.doc
Change Management E-Mail Text.doc

Bonus Documents

COBIT Easy Explanation Fact Sheet.doc
Microsoft Operations Framework Presentation.ppt
MOF Easy Explanation Fact Sheet.doc
Six Sigma Fact Sheet.doc
Purchase the Change Management Toolkit – Second Edition Risk-Free Today!
The moment you purchase the collection, the factsheets, presentations, and tools included above will be available to you through a simple download!
Need help justifying your investment?
It took us 80+ man-hours to produce theChange Management Toolkit – Second Edition: analyzing, processing, selecting, editing, and building the "flow" from the countless documents and data we have produced over months (at least $50/hour that comes to over $4,000 of time).
In total, the end result—the Change Management Toolkit – Second Edition—reflects over a full-time employee's fortnight work.
At the Art of Service, we know how important your time is for you, and we understand that nobody can substitute you in certain scenarios. This is why we give you the results without you having to do all the legwork; we do the researching and the analysis and the collating of the information we find.
All you have to do is take the outcome of all that work and use it as part of your project to make it unique to your job, project, or task at hand in a way that only you can do.
Purchase now and you have an instant ROI by having the right information at your fingertips and saving hundreds and hundreds of hours of research time.
Watch the Demo Video Now!