Configuration Management Process Kit
Does Your Organization Need a Structured Approach to IT Configuration?
Are You Struggling to Maintain Performance Consistency?
If you are looking to learn more about Configuration Management, you're about to uncover the most spectacular treasure trove of Configuration Management materials ever created; this toolkit is a unique collection to help you become a master of Configuration Management.
Configuration Management is the process that is central to all ITIL® processes (both Service Delivery and Service Support). It exists to create an environment where all IT services and infrastructure components, including relevant documentation, are under control.
The highly regarded Configuration Management Process Kit promises to deliver original and imaginative resources to ensure your organization has total control over your IT services.
The faster you act the better chance you will have to secure a protected IT service!
Your future success is VERIFIABLE PROOF that this toolkit is the answer to your prayers!
Configuration Management is a complex responsibility, embracing a number of disciplines. The process requires a range of technical skills and knowledge sets and should be planned.
The reputable and reliable professionals at The Art of Service have put in the man hours to develop a well thought out, impressive guide to giving you the know-how and understanding of how to manage your IT services.
The certified kit has been specifically designed for those who have Configuration Management awareness or skills but not the time to develop the necessary templates and structure for the process implementation.
This accomplished toolkit puts you on the path to an expert implementation process. Be prepared for INSTANT GRATIFICATION!
The Configuration Management Process Toolkit contains presentations, templates, assessments, and essential resources:
Presentations can be used to educate, as the basis for management presentations, or when making business cases for IT policies and procedures implementation.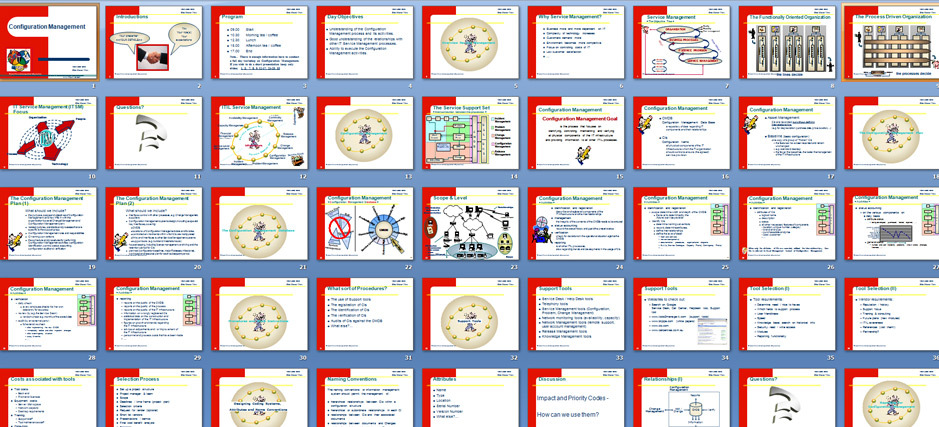 Supporting documents and assessments that will help you identify the areas within your organization that require the most activity in terms of change and improvement.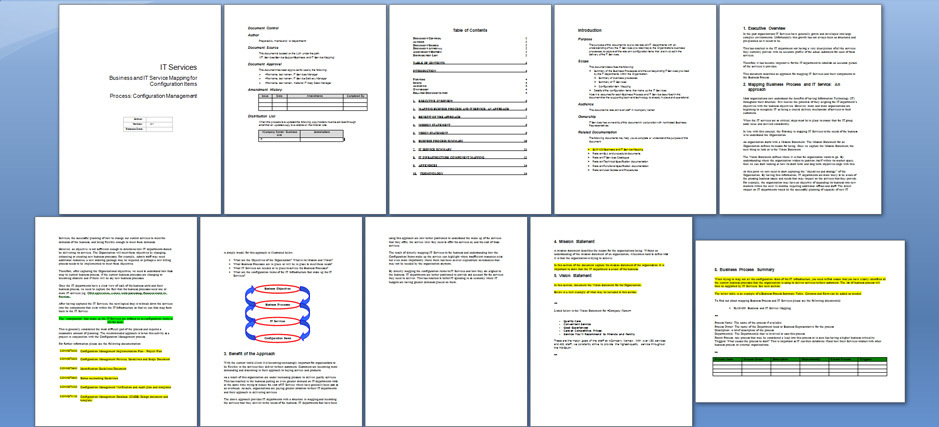 The additional information will enable you to improve your organization's methodology knowledgebase.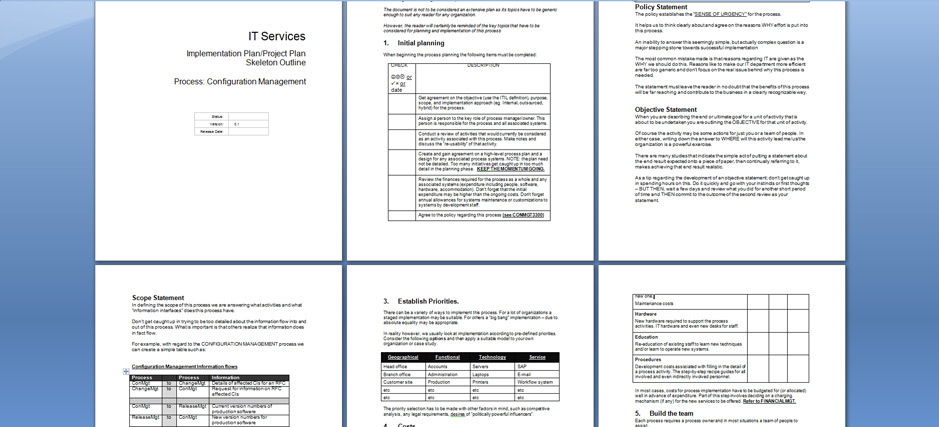 A Quick Look Inside—This Unique Toolkit contains:
Configuration Management Review Document
Configuration Management Implementation Plan/Project Plan
Configuration Management Policies, Objectives, and Scope Document
Business and IT Service Mapping
Communication Plan
Configuration Management Objectives and Goals
Configuration Process Manager Document
Identification Guidelines Document
Status Accounting Guidelines
Configuration Management Verification and Audit plan and Templates
Configuration Management Database (CMDB) Design Document and Template
Configuration Management Reports, KPI Targets, and Additional Metrics
Configuration Management Power Point Presentation
Business Justification Documents
(Also includes the Toolkit Roadmap)
Purchase the Configuration Process Management Toolkit Today!
The instant you purchase the collection, the factsheets, presentations, and tools included above will be available to you through a simple download
Need help justifying your investment?
At the Art of Service, we know how important your time is for you and we also understand that nobody can substitute you in certain scenarios. That is why we give you the results without you having to do all the legwork; we do the research, the analysis, and the collating of information we find.

All you have to do is take the outcome of all that work and use it as part of your project—to make it unique to your job, project, or task at hand in a way that only you can do.
Become the Master of your Domain. Learn how to think SMARTER, answer any question, and facilitate any discussion on the process of Configuration Management.
Be SATISFIED and grab your copy NOW!