Continual Service Improvement Toolkit – Second Edition
The Art of Service has designed this toolkit to introduce Continual Service Improvement main concepts, as well as provide you with the tools to successfully create a workable Continual Service Improvement culture in your organization. We provide you with step-by-step guides, templates, and best practice examples that will enable you to meet this challenge head-on.
Buy this Toolkit with confidence! All contents of this collection are 100% guaranteed. If you're not satisfied with your purchase, we refund—no questions asked. See FAQ page for terms and conditions.

Successfully Identify and Implement IT Service Improvements to Support Business Processes!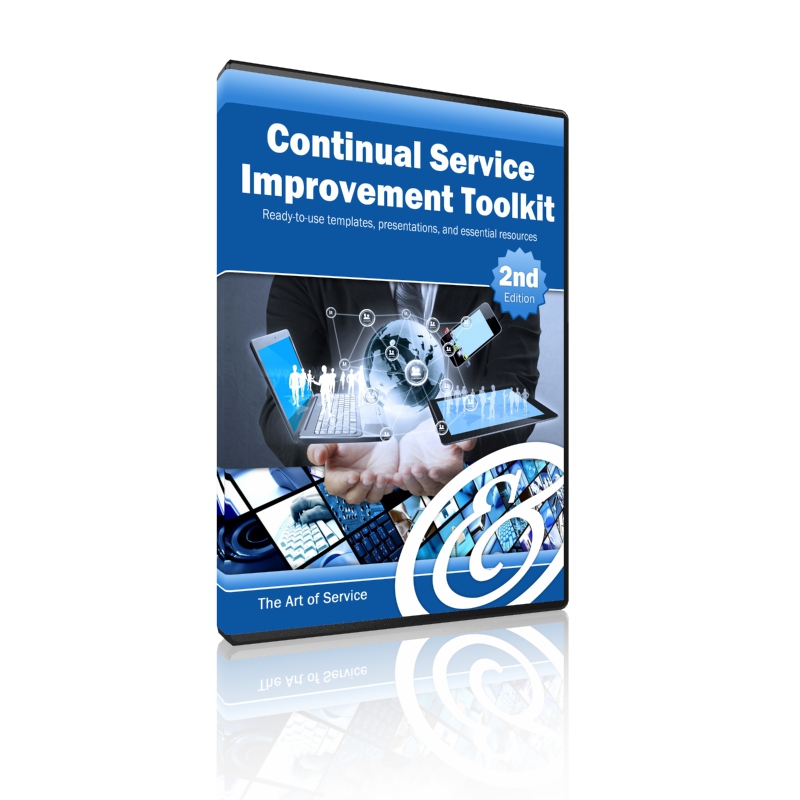 Many organizations are looking to implement Continual Service Improvement (CSI) as a way to improve the structure and quality of their business. CSI implementation aims to:
Review, analyze and make recommendations on improvement opportunities in each lifecycle phase.
Review and analyze Service Level Achievement results.
Identify and implement individual activities to improve IT service quality and improve the efficiency and effectiveness of enabling ITSM processes.
Improve cost of effectiveness of delivering IT services without sacrificing customer satisfaction.
Ensure that applicable quality management methods are used to support continual improvement activities.
Improve the Quality of Business Operations
The primary purpose of Continual Service Improvement (CSI) is to continually align and realign IT services to the changing business needs, by identifying an
d implementing improvements to IT services that support business processes. In effect, CSI is about looking for ways to improve process effectiveness and efficiency.
Defining the scope of Continual Service Improvement can be difficult because most people will recognize that anything can be improved: the problem with most organizations isn't obtaining management support for continual improvement, but in determining what should be improved. Despite these challenges, most improvement initiatives will fall into one of these categories:
Quality – meeting stakeholder needs.
Performance – achieving IT and business goals.
Internal Control – building trust and confidence in service delivery.
Compliance – meeting external requirements.
This on-trend Toolkit focuses on all aspects of implementing effective IT services in your organization. This Toolkit is your one-stop shop for controlling your IT services with ease.
This second edition toolkit provides answers to all of your CSI questions, and is designed to provide a guiding hand to assist you in improving your knowledge and understanding of CSI by offering a step-by-step, easy-to-follow roadmap. It also includes easy-to-use templates, assessments, presentations, and documents that can be adapted to your organization's requirements.
The Art of Service has designed this toolkit to introduce CSI concepts, and provide you with the tools to successfully create a workable CSI culture in your organization.
The PowerPoint presentations can be used to educate staff as the basis for management presentations or when making business cases for implementation.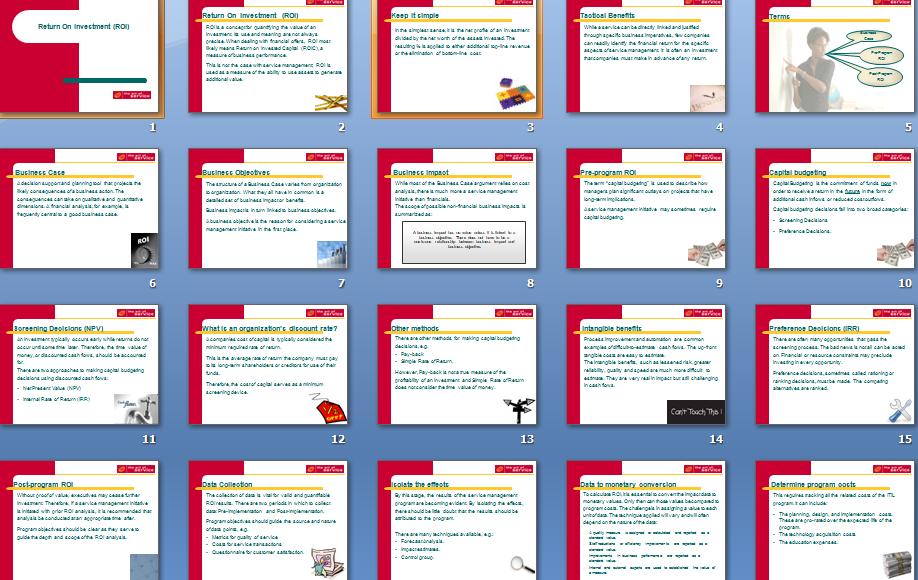 The supporting documents and templates will help you identify the areas within your organization that require the most activity in terms of change and improvement, and will provide a starting point when designing and implementing new designs, policies, and procedures.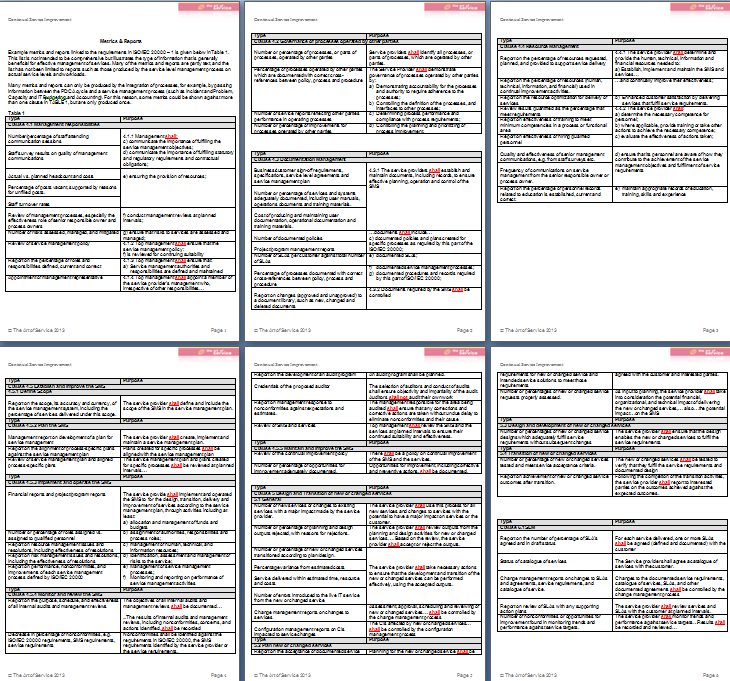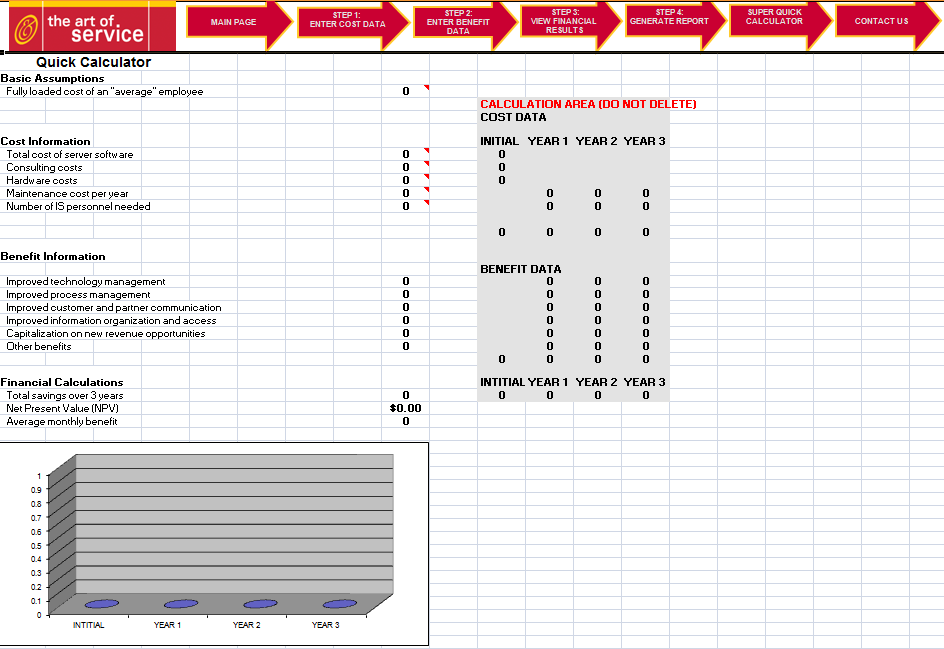 The additional resources will enable you to improve your organization's CSI understanding and knowledge base.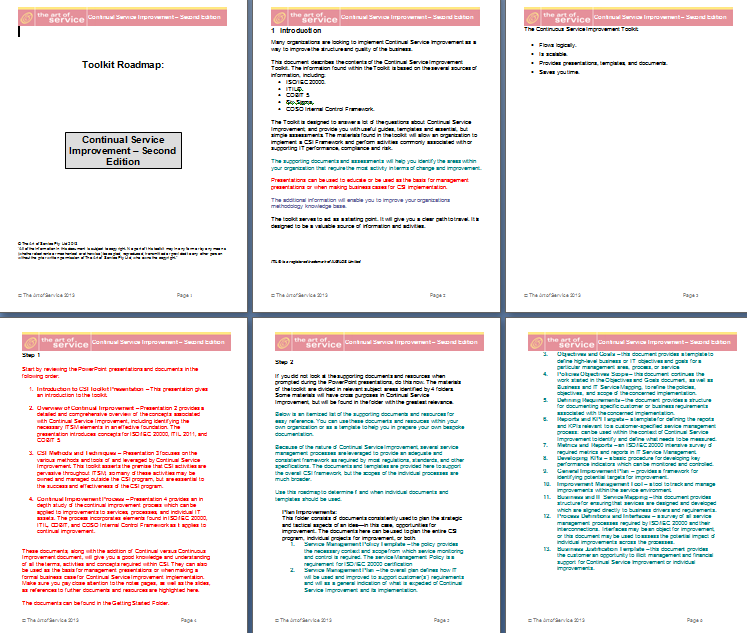 The Complete Toolkit Includes:
Step 1 Getting Started
Introduction to CSI Toolkit.ppt
Toolkit Roadmap - Continual Service Improvement.doc
Overview of Continual Improvement.ppt
CSI Methods & Techniques.ppt
Continual Improvement Process.ppt
Continual versus Continuous Improvement.doc
Step 2 Plan Improvements
Service Management Policy Template.doc
Service Management Plan.doc
Objectives and Goals.doc
Policies Objectives Scope.doc
Defining Requirements.doc
Reports and KPI Targets.doc
Metrics and Reports.doc
Developing KPIs.doc
General Improvement Plan.doc
Improvement Management Tool.doc
Business and IT Service Mapping.doc
Process Definitions and Interfaces.doc
Business Justification Template.doc
ROI Presentation.ppt
ROI Calculator.xls
Communication Plan.doc
Step 3 Data Collection
Begin with the Data.ppt
Principles of Data Collection.doc
ITIL® Process Assessment.doc
Step 4 Data Analysis and Reporting
Data Analytics.ppt
Service Report Description Template.doc
Principles of Descriptive Analysis.doc
Principles of Variation Analysis.doc
Principles of Root Cause Analysis.doc
Technique -5 Whys.doc
Technique - Pareto Charts.doc
Technique - Fishbone Diagrams.doc
Technique - C&E Matrix.doc
Technique - Stratified Data Chart.doc
Technique - Scatter Plots.doc
Technique - Hypothetical Testing.doc
Technique - Regression Analysis.doc
Internal Audits.doc
Management Reviews.doc
Step 5 Making Improvements
Project Brief.doc
Project Initiation.doc
General Change Procedure.doc
Request for Change (RFC) Template.doc
Lessons Learned Template.doc
Bonus Documents
Bonus Materials consists of fact sheets, presentations, and documents regarding related subjects, including:
COBIT
COBIT Easy Explanation Fact Sheet.doc
ISO 9000
ISO 9000 Easy Explanation Fact Sheet.pdf
ISO 9000 Presentation.ppt
Model of a Process-Based Quality Management System.doc
ISO 20000
ISO 20000 - Introduction Presentation.ppt
ISO 20000 FAQs.doc
ISO 27000
ISO 27000 Presentation.ppt
Mapping - Terms and Usage.doc
ITIL

ISO IEC 20000 and ITIL Presentation.ppt
ITIL Easy Explanation Fact Sheet.pdf
Risk Management
Risk Management - Prince2.ppt
Risk Management - Project Management.ppt
Six Sigma
Simple Six Sigma Calculator.xls
Six Sigma- Short Overview.doc
Six Sigma Defining Requirements.doc
Six Sigma Presentation.ppt
Starter Kit Document.doc
Purchase the Continual Service Improvement Toolkit – Second Edition Risk-Free Today!
The moment you purchase the collection, the factsheets, presentations, and tools included above will be available to you through a simple download!
Need help justifying your investment?
It took us 80+ man-hours to produce the Continual Service Improvement Toolkit: analyzing, processing, selecting, editing, and building the "flow" from the countless documents and data we have produced over months (at least $50/hour that comes to over $4,000 of time).
In total, the end result—the Continual Service Improvement Toolkit – Second Edition— reflects over a full-time employee's fortnight work.
At the Art of Service, we know how important your time is for you and we also understand that nobody can substitute you in certain scenarios. This is why we give you the results without you having to do all the legwork; we do the researching and the analysis and the collating of the information we find.
All you have to do is take the outcome of all that work and use it as part of your project to make it unique to your job, project, or task at hand in a way that only you can do.
Purchase now and you have an instant ROI by having the right information at your fingertips and saving hundreds and hundreds of hours of research time.
ITIL® is a registered trade mark of AXELOS Limited