Gain Insight & Control of Your Finances!
Why is Financial Management so vital?
Improve decision-making processes.
Manage proactively and not reactively.
Perform accurate financial analysis.
Operate your business more effectively.
Achieve successful financial planning.
The Art of Service has designed this toolkit to introduce Financial Management main concepts, as well as provide you with the tools to successfully create a workable Financial Management culture in your organization. We provide you with step-by-step guides, templates, and best practice examples that will enable you to meet this challenge head-on.
Buy this Toolkit with confidence! All contents of this collection are 100% guaranteed. If you're not satisfied with your purchase, we refund—no questions asked. See FAQ page for terms and conditions.
Achieve Successful Financial Management Today!

The goal of Financial Management is to secure the appropriate level of funding for designing, developing, and delivering IT services that meet the customer's business objectives, and to have cost-effective processes in place for demonstrating good stewardship of those funds.
Financial Management is the process, which acts as a bridge between the Business Desires/Opportunities and the Capabilities of the IT organization. It enables the business to be more IT conscious and IT to become more business aligned.
Operational visibility, insight, and superior decision making are the core capabilities brought to the enterprise though the rigorous application of Financial Management. Just as business units accrue benefits through the analysis of product mix and margin data, or customer profiles and product behavior, a similar utility of financial data continues to increase the importance of Financial Management for IT and the business as well.
This Toolkit has been created to assist you with the implementation of Financial Management. Good Financial Management for IT will:
Ensure that proper controls are in place to protect financial assets associated with Information Technology.
Improve the organization's (both customer and service provider) ability to make sound financial decisions.
Plan for and obtain adequate funding for current and future IT operations and growth.
Ensure efficient use of IT assets.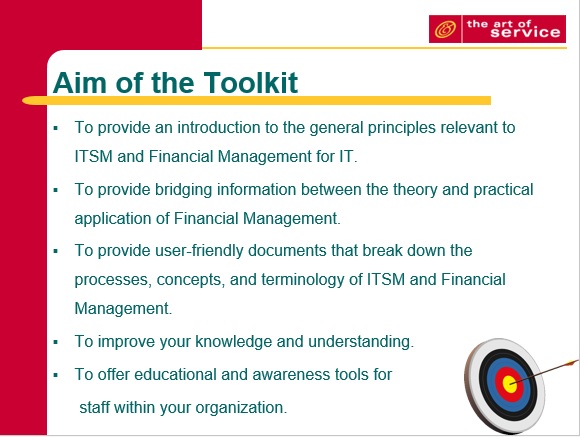 The Financial Management Process Kit is designed to improve the structure and quality of your business and aid your organization's Financial Management for IT Services to account fully for the spending on IT Services, and to attribute these costs to the services delivered to the organization's customers.
The Art of Service has designed this toolkit to introduce Financial Management concepts, and provide you with the tools to successfully create a workable Financial Management culture in your organization.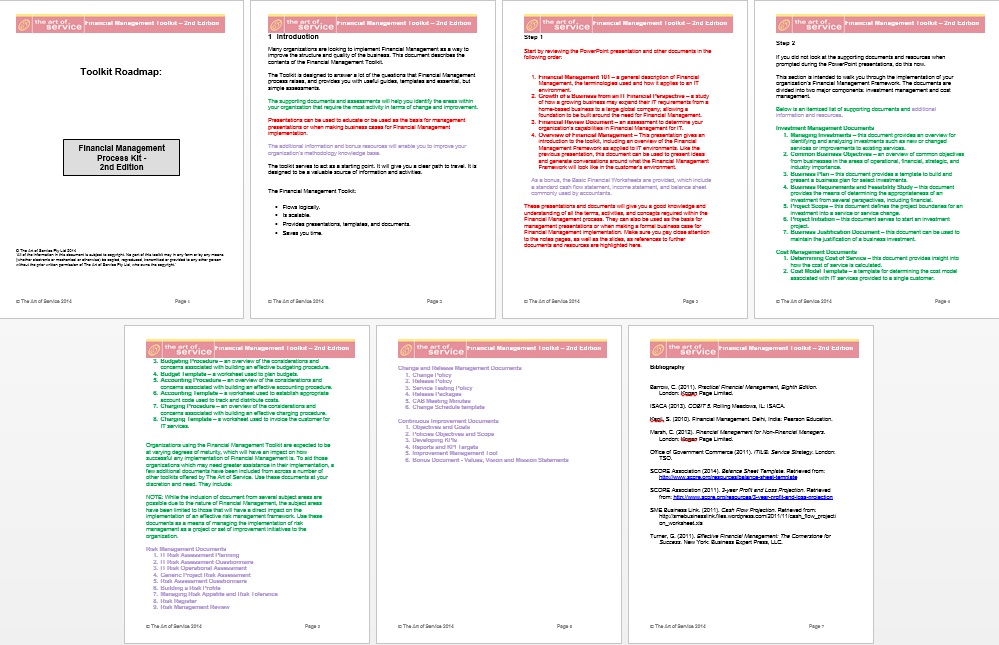 This toolkit provides answers to all of your Financial Management questions, and is designed to provide a guiding hand to assist you in improving your knowledge and understanding of Financial Management by offering a step-by-step, easy-to-follow roadmap. It also includes easy-to-use templates, assessments, presentations, and documents that can be adapted to your organization's requirements.
The PowerPoint presentations can be used to educate staff as the basis for management presentations or when making business cases for implementation.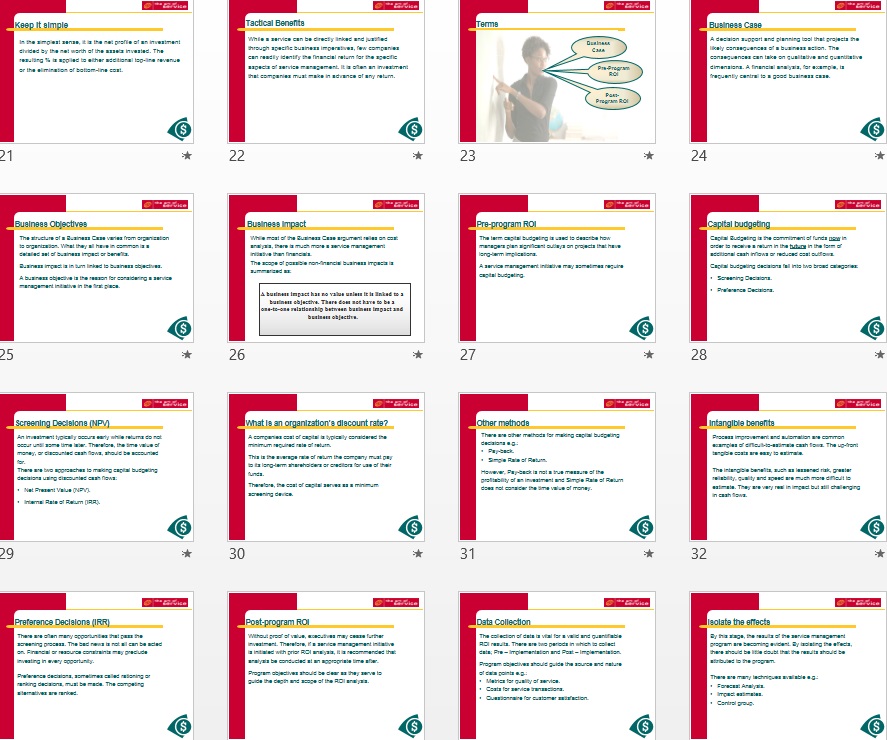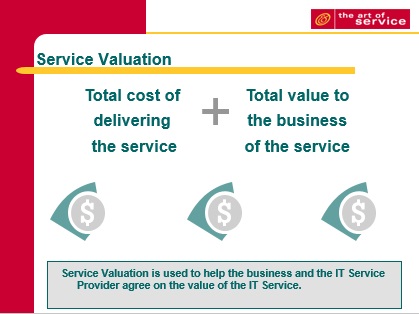 The supporting documents and templates will help you identify the areas within your organization that require the most activity in terms of change and improvement, and will provide a starting point when designing and implementing new designs, policies, and procedures.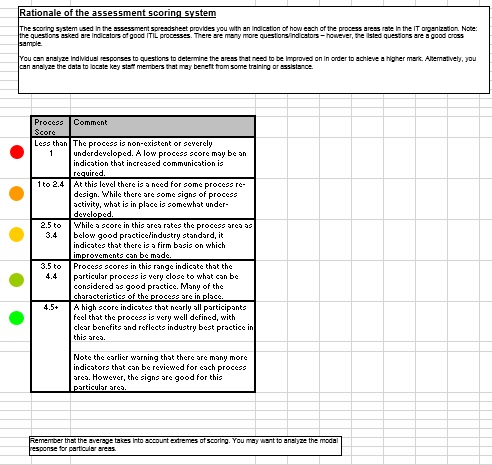 The additional resources will enable you to improve your organization's Financial Management understanding and knowledge base.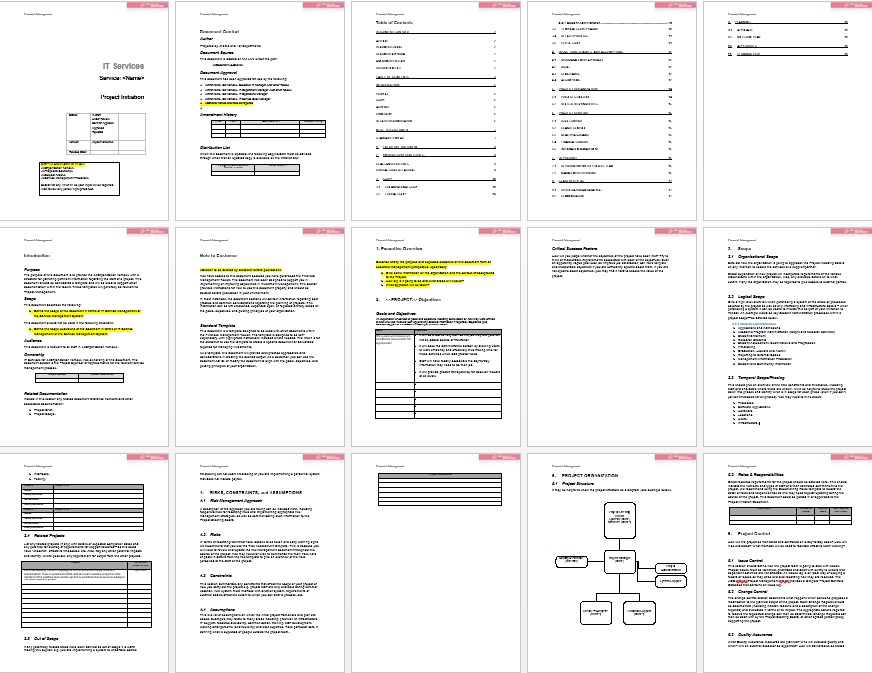 The Complete Toolkit Includes:
Step 1 Getting Started
Toolkit Introduction Presentation - Financial Management.ppt
Toolkit Roadmap - Financial Management.doc
Financial Management 101.doc
Growth of a Business from an IT Financial Perspective.doc
Financial Review Doc.xls
Financial Management PowerPoint.ppt
Bonus Document - Basic Financial Worksheets.xls
Step 2 Investment Management
Managing Investments.doc
Common Business Objectives.doc
Business Plans.doc
Business Requirements and Feasibility Study.doc
Project Scope.doc
Project Initiation.doc
Business Justification Document.doc
Step 3 Cost Management
Determining Cost of Service.doc
Cost Model Template.xls
Budgeting Procedure.doc
Budget Template.xls
Accounting Procedure.doc
Accounting Template.xls
Charging Procedure.doc
Charging Template.xls
Step 04 Risk Management
IT Risk Assessment Planning.doc
IT Risk Assessment Questionnaire.xls
IT Risk Operational Assessment.doc
Generic Project Risk Assessment.doc
Risk Assessment Questionnaire.doc
Building a Risk Profile.doc
Managing Risk Appetite and Risk Tolerance.doc
Risk Register.xls
Risk Management Review.doc
Step 5 Change and Release Management
Change Policy.doc
Release Policy.doc
Service Testing Policy.doc
Release Packages.doc
CAB Meeting Minutes.doc
Change Schedule Template.doc
Step 6 Continuous Improvement
Objectives and Goals.doc
Policies objectives scope.doc
Developing KPIs.doc
Reports and KPI Targets.doc
Improvement Management Tool.xls
Bonus Document - Values, Vision, and Mission Statements.doc
Purchase The Financial Management Process Kit – Second Edition Risk-Free Today!
The moment you purchase the collection, the factsheets, presentations, and tools included above will be available to you through a simple download!
Need help justifying your investment?
It took us 80+ man-hours to produce The Financial Management Process Kit – Second Edition: analyzing, processing, selecting, editing, and building the "flow" from the countless documents and data we have produced over months (at least $50/hour that comes to over $4,000 of time).
In total, the end result—The Financial Management Process Kit – Second Edition—reflects over a full-time employee's fortnight's work.
At the Art of Service, we know how important your time is for you and we also understand that nobody can substitute you in certain scenarios. This is why we give you the results without you having to do all the legwork; we do the researching and the analysis, and the collating of the information we find.
All you have to do is take the outcome of all that work and use it as part of your project to make it unique to your job, project, or task at hand in a way that only you can do.
Purchase now and you have an instant ROI by having the right information at your fingertips and saving hundreds and hundreds of hours of research time.

WATCH THE DEMO VIDEO NOW!