Improve Your Internal Cloud Infrastructure Today!

This Toolkit specifically focuses on the adoption or reemphasis of using IT Service Management (ITSM) to develop and maintain an internal cloud infrastructure. Why implement and ITSM approach?
Clear structure
Improve control
Process structure
Cultural control
Frames of reference
Discover the Endless Possibilities of Effective IT Service Management.
The Art of Service has designed this toolkit to introduce the ITSM in Internal Clouds main concepts, as well as provide you with the tools to successfully create a workable ITSM in Internal Clouds culture in your organization. We provide you with step-by-step guides, templates, and best practice examples that will enable you to meet this challenge head-on.
---
Cloud Computing has become a popular trend in business operations within the decade. With all its benefits and growth potential, cloud computing still has an immediate downside – the lack of standards and regulations regarding its use, design, or interoperability with other technologies. As a result, there is no clear direction for any organization to take regarding its adoption of cloud-based IT services. Essential characteristics for successful cloud computing processes are:
On-demand self-service.
Broad network access.
Resource pooling.
Rapid elasticity.
Measured service.
The purpose of this toolkit is to look at cloud computing from an ITSM perspective and understand what must be maintained within the service environment to successfully leverage cloud resources.
This on-trend Toolkit focuses on how adopting ITSM processes can effectively improve your internal cloud infrastructure. This Toolkit is your one-stop-shop to successfully develop, manage, and maintain your cloud computing services using the proven method of ITSM.
The Toolkit serves to act as a starting point. It will give you a clear path to travel. It is designed to be a valuable source of information and activities.
This toolkit provides answers to all of your ITSM in Internal Clouds questions, and is designed to provide a guiding hand to assist you in improving your knowledge and understanding of ITSM in Internal Clouds by offering a step-by-step, easy-to-follow roadmap. It also includes easy-to-use templates, assessments, presentations, and documents that can be adapted to your organization's requirements.
The Art of Service has designed this toolkit to introduce ITSM in Internal Clouds concepts, and provide you with the tools to successfully create a workable ITSM in Internal Clouds culture in your organization.
The PowerPoint presentations can be used to educate staff as the basis for management presentations or when making business cases for implementation.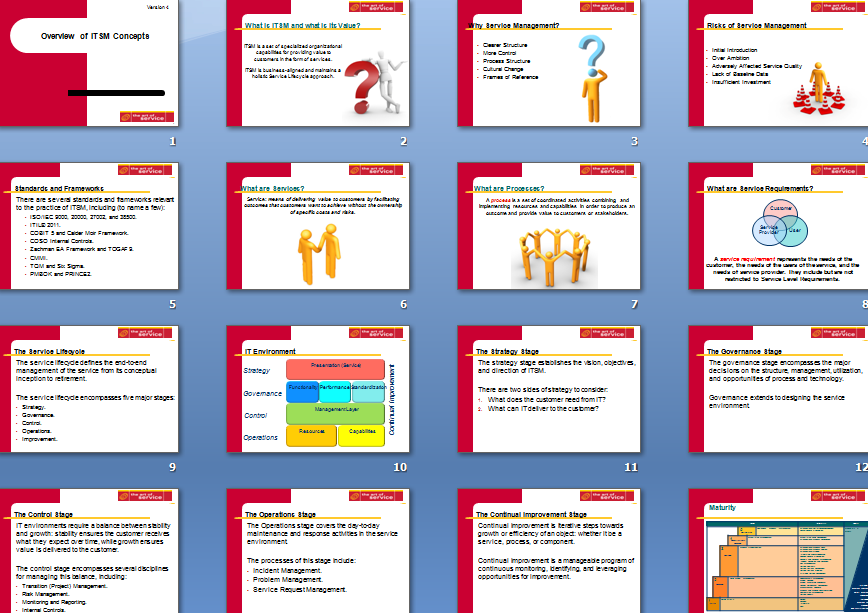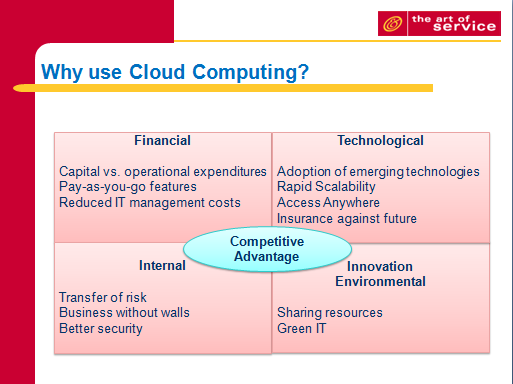 The supporting documents and templates will help you identify the areas within your organization that require the most activity in terms of change and improvement, and will provide a starting point when designing and implementing new designs, policies, and procedures.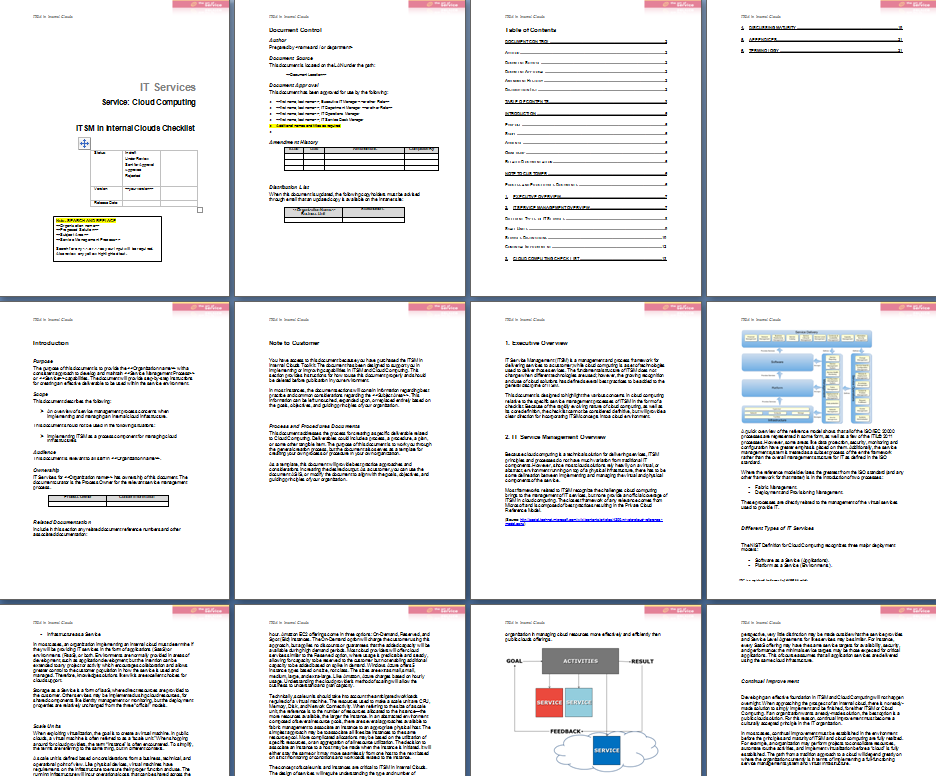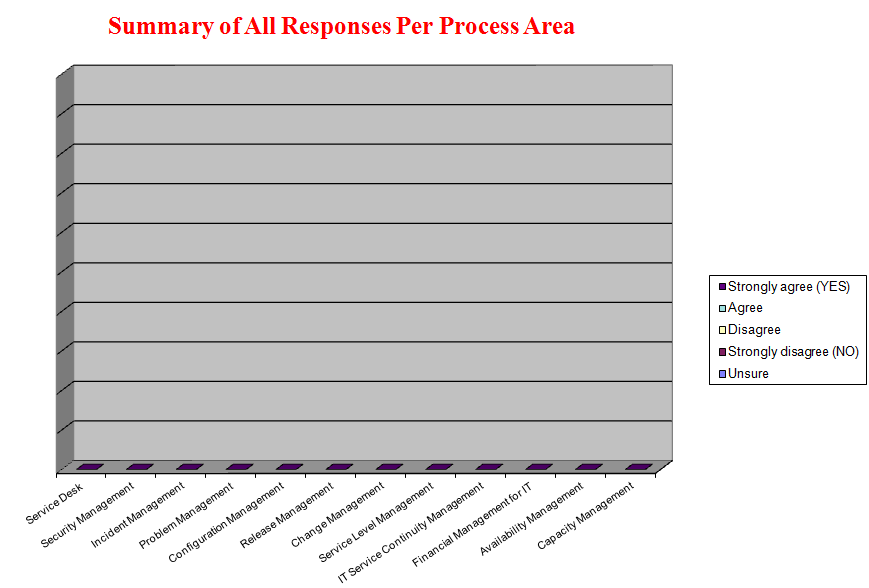 The additional resources will enable you to improve your organization's ITSM in Internal Clouds understanding and knowledge base.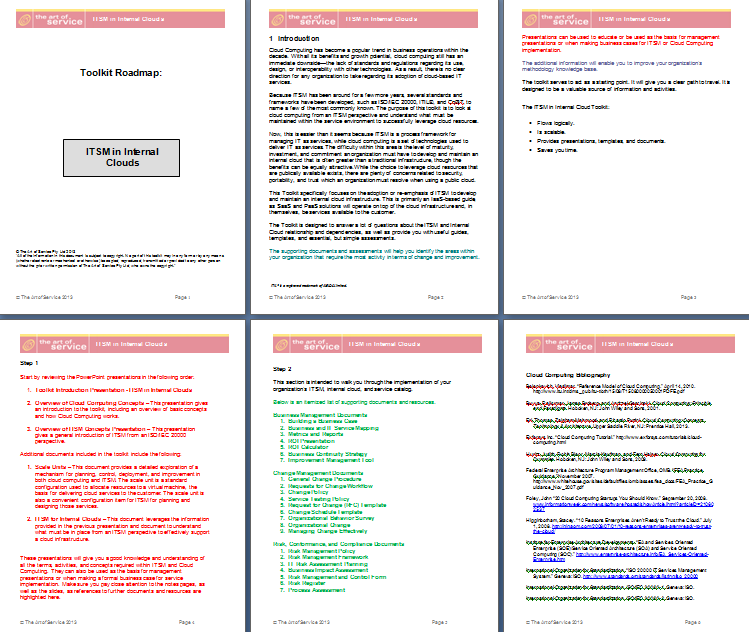 The Complete Toolkit Includes:
Step 1- Getting Started:
Toolkit Introduction Presentation - ITSM in Internal Clouds.ppt
Toolkit Roadmap - ITSM in Internal Clouds.doc
Overview of ITSM Concepts Presentation.ppt
Overview of Cloud Computing Concepts.ppt
Scale Units.doc
ITSM for Internal Clouds.doc
Step 2 - Business Management:
Building a Business Case.doc
Business and IT Service Mapping.doc
Metrics and Reports.doc
ROI Presentation.ppt
ROI Calculator.xls
Business Continuity Strategy.doc
Improvement Management Tool.xls
Step 3 - Change Management:
General Change Procedure.doc
Request for Change Workflow.doc
Change Policy.doc
Service Testing Policy.doc
Request for Change (RFC) Template.doc
Change Schedule Template.doc
Organizational Behavior Survey.doc
Organizational Change.doc
Managing Change Effectively.doc
Step 4 - Risk, Conformance, and Compliance:
Risk Management Policy.doc
Risk Management Framework.doc
IT Risk Assessment Planning.doc
Business Impact Assessment.doc
Risk Assessment and Control Form.doc
Risk Register.xls
Process Assessment.xls
Purchase The ITSM in Internal Clouds Toolkit Today!
The moment you purchase the collection, the factsheets, presentations, and tools included above will be available to you through a simple download!
Need help justifying your investment?
It took us 80+ man-hours to produce The ITSM in Internal Clouds Toolkit: analyzing, processing, selecting, editing, and building the "flow" from the countless documents and data we have produced over months (at least $50/hour that comes to over $4,000 of time).
In total, the end result—The ITSM in Internal Clouds Toolkit— reflects over a full-time employee's fortnight work.
At the Art of Service, we know how important your time is for you and we also understand that nobody can substitute you in certain scenarios. This is why we give you the results without you having to do all the legwork; we do the researching and the analysis, and the collating of the information we find.
All you have to do is take the outcome of all that work and use it as part of your project to make it unique to your job, project, or task at hand in a way that only you can do.
Purchase now and you have an instant ROI by having the right information at your fingertips and saving hundreds and hundreds of hours of research time.