Are you looking to implement Service Catalog Management as a way to improve the structure and quality of your business?

ITIL Alignment Begins With Service Catalog Management
Service Catalog Management is a key component of the ITIL Framework. Carefully planned and documented IT Service Management (ITSM) processes are becoming an increasingly important component in the delivery of higher customer satisfaction. The Service Catalog Process Kit provides a wide variety of resources to boost your understanding and ability to implement Service Catalog Management in your organization.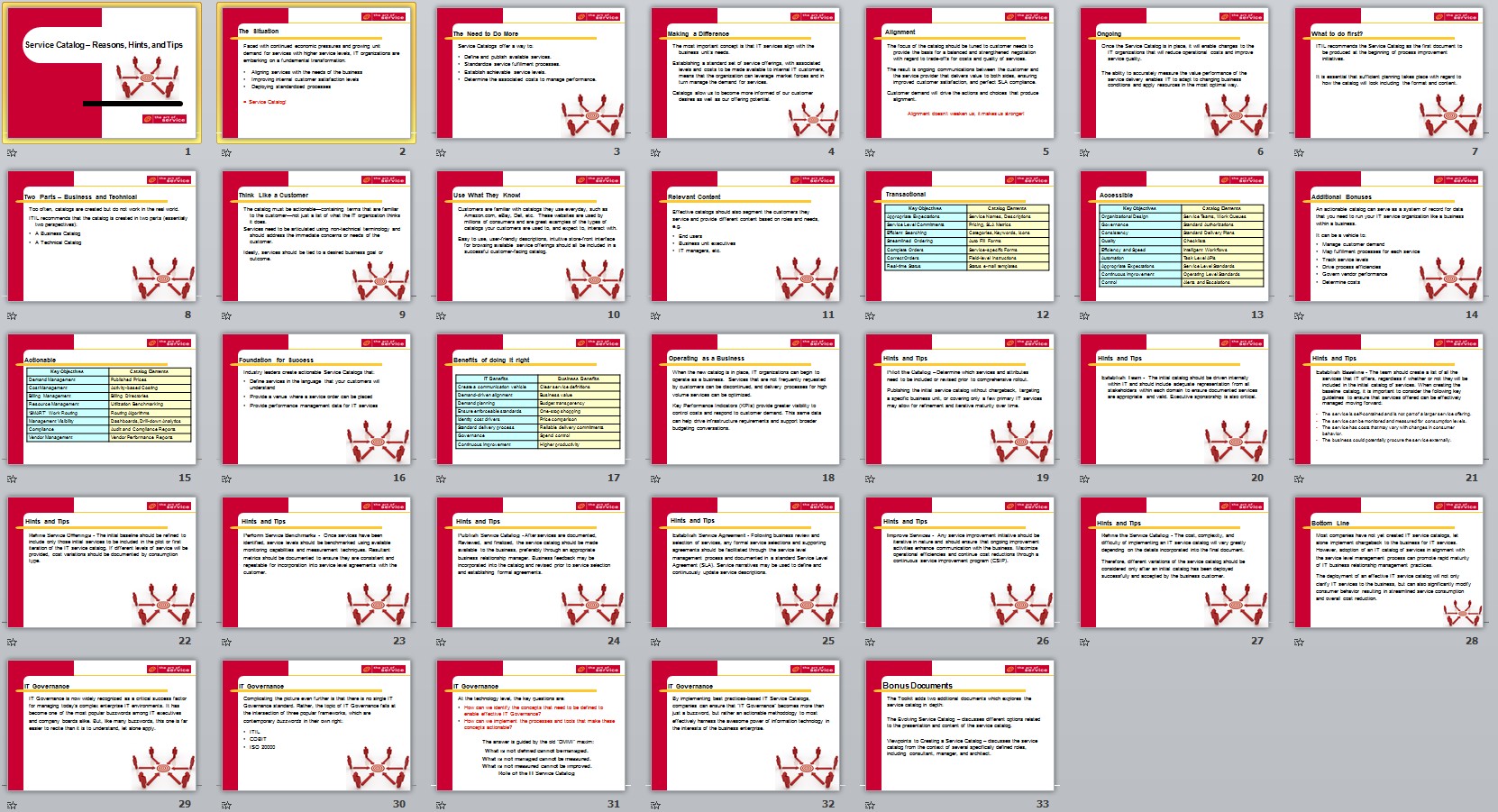 This Kit covers Service Catalog fundamentals the use of Service Catalogs as a core IT tool covering the services themselves, default capabilities, measures and primary means of access and provision. It then shows how this tool is pivotal in demonstrating the value IT provides to facilitate business operations. Put together by The Art of Service's industry experts and using real case studies, this valuable kit takes the reader beyond the theoretical to focus on the real business benefits of Service Catalogs and how to implement them successfully within an organization.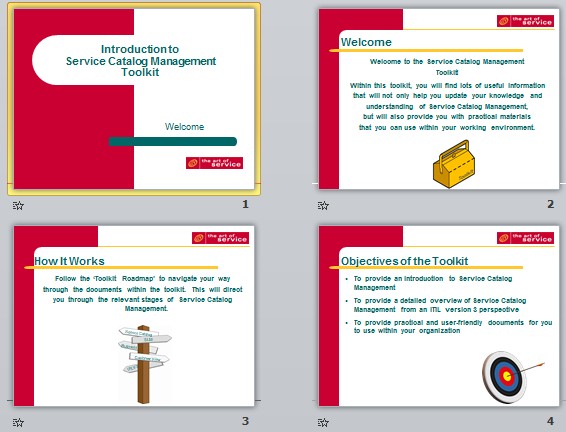 This innovative set of documents and ready-to-use templates will provide you with a head start for both learning and implementation of an IT service organization that meets today's standards. It is tailor-fit for IT managers who need to move towards a services-oriented organization, but they don't have the time or resources at hand to develop the required templates and structure for implementation.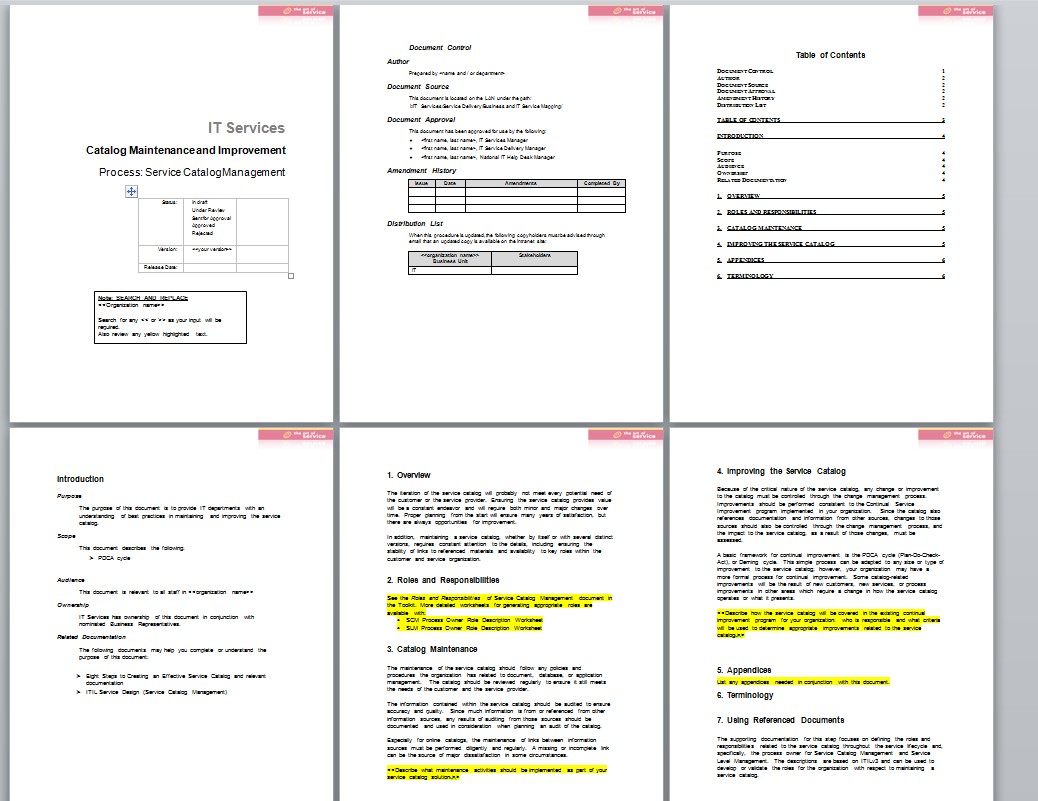 Buy with confidence
All contents of this collection are 100% guaranteed. See below for details.
What is included in the updated third edition of the Service Catalog toolkit?
Introduction and Roadmap Folder
SCM-Eight Steps to Creating an Effective Service Catalog
Service Catalog Management Intro Presentation
Service Catalog Management ITILV3
SCM-Service Catalog Reasons Hints & Tips
Toolkit Roadmap - Service Catalog Management
Bonus Documents Folder
SCM-ITIL Easy Explanation Fact Sheet
SCM-The Evolving Service Catalog
SCM-Viewpoints to Creating a Service Catalog
ISO Series Folder
Step 1 – Definitions Folder
SCM-Functional Specification Template
SCM-Service Definition
SCM-Technical Specification Template
Step 2 - Process and Policies Folder
SCM-Business and IT Service Mapping
Policies Objectives Scope for SCM
SCM-Policies Objectives Scope for SLM
SCM-SLM Process Template
SCM-SLM Review Doc
Step 3 - Map Dependencies Folder
SCM-Service Design - The Big Picture
SCM-Service Enablers
SCM-The Key Links, Inputs and Outputs of Service Design
Step 4 - Service Levels Folder
SCM-Corporate-Based SLA Template Example
SCM-Customer-Based SLA Template Example
SCM-Operational Level Agreement Template Example
SCM-Service Agreements
SCM-Service-Based SLA Template Example
SCM-Service Options
SCM-Underpinning Contracts Template Example
Step 5 - Establish Cost of Services Folder
SCM-Cost of Services and Pricing
SCM-Price List
Step 6 - Determine Perspectives for Catalog Folder
SCM-Service Catalog Perspectives
Step 7 - Publish Catalog Folder
SCM-Business Justification document

SCM-Communication Plan

SCM-E-Mail Text

SCM-Publishing a Service Catalog

SCM-Service Catalog Extended

SCM-Service Catalog Implementation Plan

SCM-Service Catalog Large

SCM-Service Catalog Medium

SCM-Service Level Project Plan

SCM-SLM Business and IT Flyers
Step 8 - Maintain and Improve Service Catalog Folder
SCM-Catalog Maintenance and Improvement
Roles and Responsibilities of Service Catalog Management (SCM)
SCM Process Owner Role Description Template
SCM-SLM Process Owner Role Description Template
The Service Catalog Process Kit is Yours Risk Free Today!
The instant you purchase the collection, the fact sheets, presentations and tools listed above will be available to you through a simple download.
Buy this Toolkit with confidence! All contents of this collection are 100% guaranteed. If you're not satisfied with your purchase, we refund—no questions asked. See FAQ page for terms and conditions.

This Video gives you an insight in the contents of the Service Catalog Toolkit: