Measure & Improve Your Business Processes Today!
The Art of Service has designed this toolkit to introduce Six Sigma's main concepts and provide you with the tools to successfully create a workable Six Sigma culture in your organization. We provide you with step-by-step guides, templates, and best practice examples that will enable you to meet this challenge head on.
Effectively manage your organization with a proven methodology for improving key processes, and a business philosophy which focuses on continuous improvement.
Why should you adopt Six Sigma processes?
Defined process for problem solving.
Proven methodology to solve problems.
Consistency with results.
Focus on the "bottom line," which encourages credibility/support from the top of the organization.
Adopt a Proven Methodology for Operational Problem Solving

Six Sigma is a methodology used in quality management and improvement. Fundamentally, the concepts and tools of Six Sigma are not new, but they have been packaged to support quality management more effectively and efficiently. Six Sigma highlights setting exceptionally high objectives, and collecting and analyzing data precisely as a way to reduce deficiencies in products and services. Six Sigma can be perceived in a variety of ways:
A statistical measure of variation.
Methodology for improving key processes.
A "tool box" of quality and management tools for problem resolution.
A business philosophy focusing on continuous improvement.
An organized

process

for structured analysis of data.
Effectively manage and maintain business goals and objectives with this second edition Toolkit! Business owners and managers wanting to think more analytically about operational methods, and how processes can be more effective need to look no further! If you are looking to implement a process that measures quality and strives to achieve perfection, then this is the toolkit for you!
This second edition toolkit provides answers to all of your Six Sigma questions, and is designed to provide a guiding hand to assist you in improving your knowledge and understanding of Six Sigma by offering a step-by-step, easy-to-follow roadmap. It also includes easy-to-use templates, assessments, presentations, and documents that can be adapted to your organization's requirements.
The Art of Service has designed this toolkit to introduce Six Sigma concepts, and provide you with the tools to successfully create a workable Six Sigma culture in your organization.
The PowerPoint presentations can be used to educate staff as the basis for management presentations or when making business cases for implementation.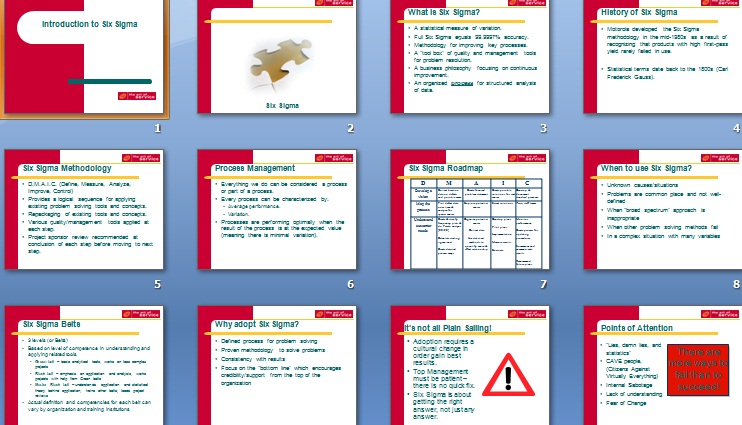 The supporting documents and templates will help you identify the areas within your organization that require the most activity in terms of change and improvement, and will provide a starting point when designing and implementing new designs, policies, and procedures.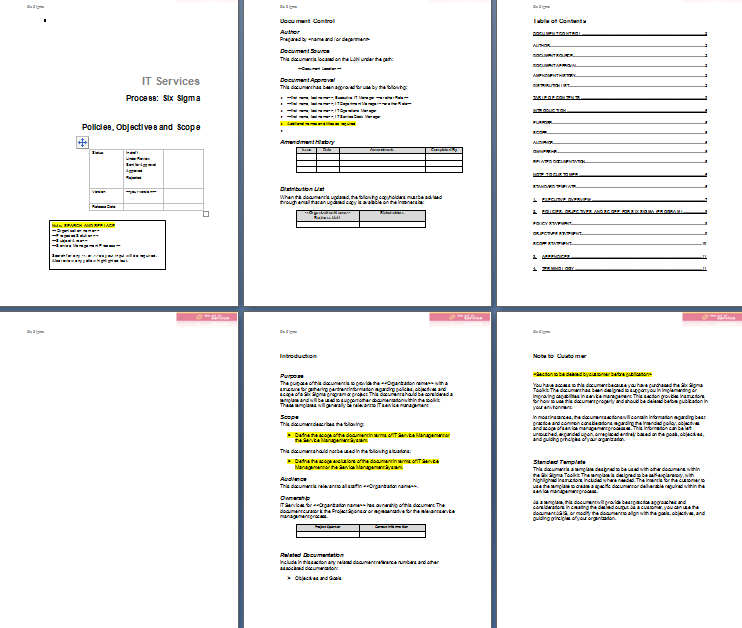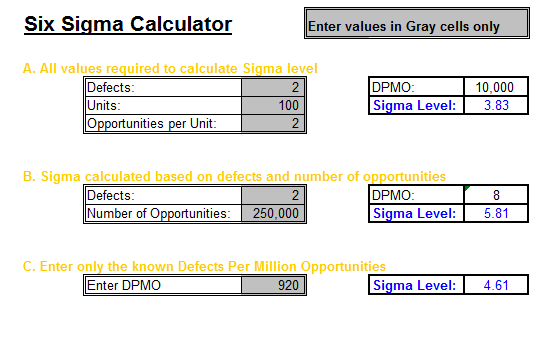 The additional resources will enable you to improve your organization's Six Sigma understanding and knowledge base.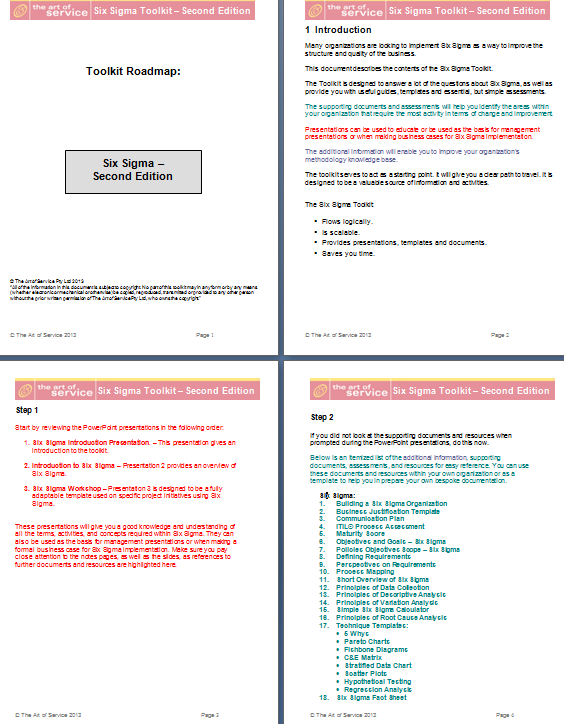 The Complete Toolkit Includes:
Toolkit Roadmap - Six Sigma
Step 1


Six Sigma Introduction Presentation
Introduction to Six Sigma
Six Sigma Workshop

Step 2

Building a Six Sigma Organization
Business Justification Template
Communication Plan
ITIL Process Assessment
Maturity Score
Objectives and Goals - Six Sigma
Policies Objectives Scope - Six Sigma
Defining Requirements
Perspectives on Requirements
Process Mapping
Short Overview of Six Sigma
Principles of Data Collection
Principles of Descriptive Analysis
Principles of Variation Analysis
Simple Six Sigma Calculator
Principles of Root Cause Analysis
Technique Templates:

Technique - 5 Whys
Technique - Pareto Charts
Technique - Fishbone Diagrams
Technique - C&E Matrix
Technique - Stratified Data Chart
Technique - Scatter Plots
Technique - Hypothetical Testing
Technique - Regression Analysis

Six Sigma Fact Sheet
Purchase the Six Sigma Toolkit – Second Edition Today!
The moment you purchase the collection, the factsheets, presentations, and tools included above will be available to you through a simple download!
Need help justifying your investment?
It took us 80+ man-hours to produce the Six Sigma Toolkit – Second Edition: analyzing, processing, selecting, editing, and building the "flow" from the countless documents and data we have produced over months (at least $50/hour that comes to over $4,000 of time).
In total, the end result—the Six Sigma Toolkit – Second Edition—reflects over a full-time employee's fortnight work.
At the Art of Service, we know how important your time is for you and we also understand that nobody can substitute you in certain scenarios. This is why we give you the results without you having to do all the legwork; we do the researching and the analysis and the collating of the information we find.
All you have to do is take the outcome of all that work and use it as part of your project to make it unique to your job, project, or task at hand in a way that only you can do.
Purchase now and you have an instant ROI by having the right information at your fingertips and saving hundreds and hundreds of hours of research time.