Effectively Maintain & Control Your Information Systems Today!
The Art of Service has designed this toolkit to introduce CMDB main concepts, as well as provide you with the tools to successfully create a workable CMDB culture in your organization. We provide you with step-by-step guides, templates, and best practice examples that will enable you to meet this challenge head-on.
Buy this Toolkit with confidence! All contents of this collection are 100% guaranteed. If you're not satisfied with your purchase, we refund—no questions asked. See FAQ page for terms and conditions.
Identify, Manage, & Track Configuration Items with Ease.
A Configuration Management Database (CMDB) is designed to contain all vital information surrounding organizations' technology components, better known as Configuration Items (CIs). The 5 key benefitsof CMDB implementation are:
1. Tracks software changes.
2. Proactive IT change management processes.
3. Improves IT risk assessment.
4. Creates cohesive IT and business relationships.
5. Enhances IT compliance.
---
Configuration management can often be very confusing simply because it is unclear what is being managed. Configuration management processes intend to identify, manage, and track CIs, as well as implementing effective change management strategies where and when needed. A CMDB aims to provide a clear and organized view of business data, and a method of examining that data from a favored perspective. Because of the importance of the configuration management database to the configuration management process and the overall IT service management, sufficient focus should be given on the database itself.
This on-trend Toolkit focuses on how implementing a CMDB is an effective way of improving the structure and quality of your business. This Toolkit is your one-stop shop for controlling and maintaining your organization's information systems with ease.
This second edition toolkit provides answers to all of your CMDB questions, and is designed to provide a guiding hand to assist you in improving your knowledge and understanding of CMDB implementation by offering a step-by-step, easy-to-follow roadmap. It also includes easy-to-use templates, assessments, presentations, and documents that can be adapted to your organization's requirements.
The Art of Service has designed this toolkit to introduce CMDB concepts, and provide you with the tools to successfully create a workable CMDB culture in your organization.
The PowerPoint presentations can be used to educate staff as the basis for management presentations or when making business cases for implementation. These presentations will give you an insightful plethora of knowledge and understanding of all the terms, activities, and concepts required within the CMDB process.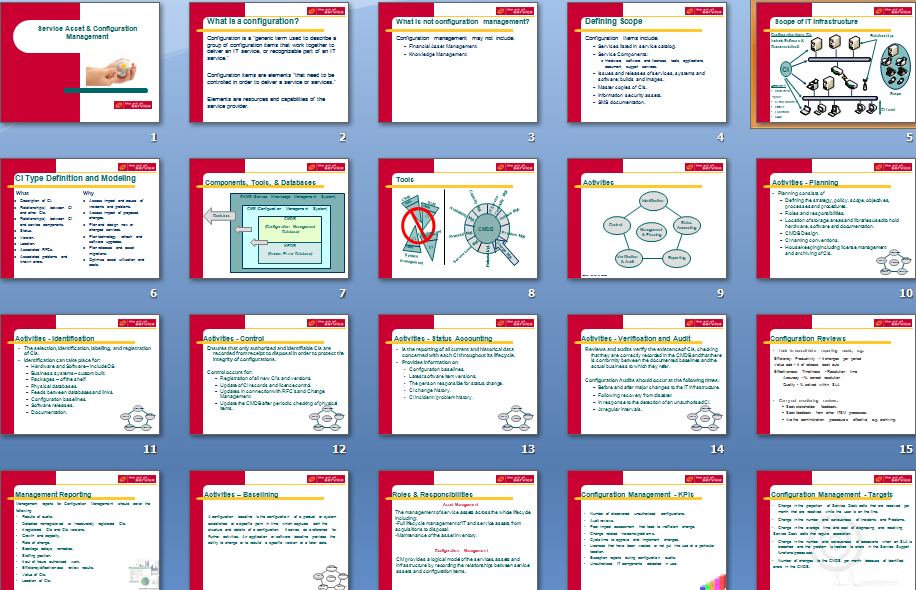 The supporting documents and templates will help you identify the areas within your organization that require the most activity in terms of change and improvement, and will provide a starting point when designing and implementing new designs, policies, and procedures.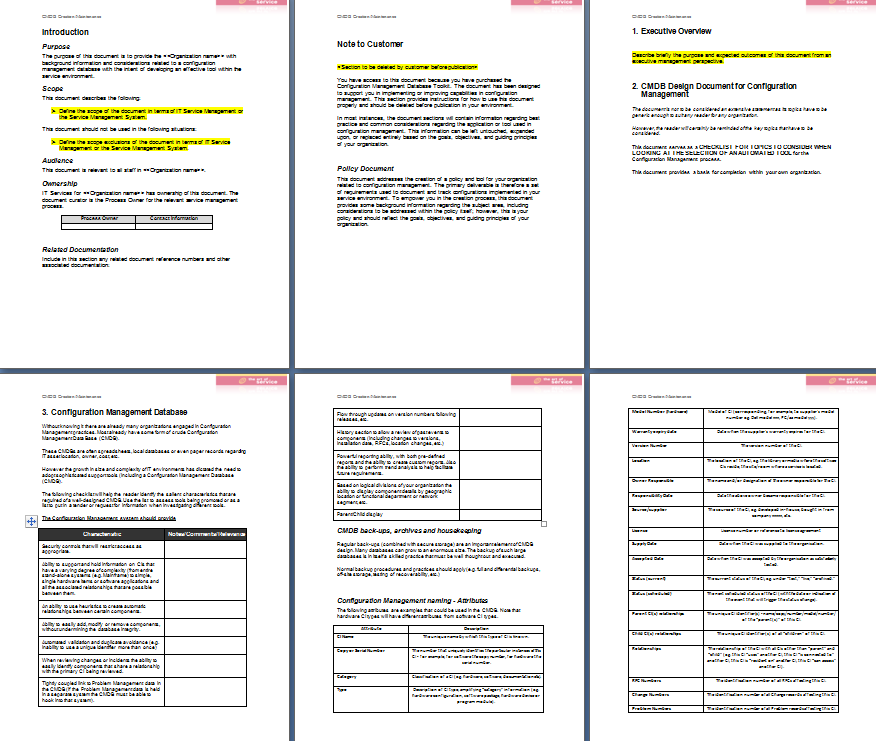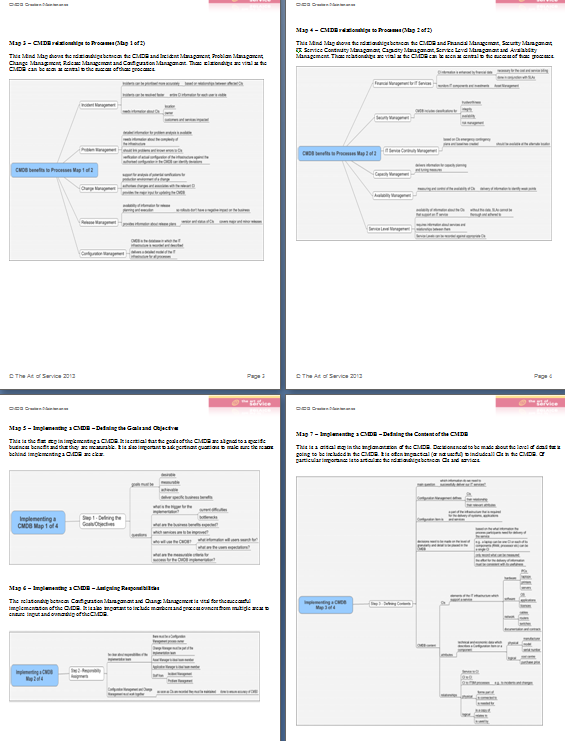 The additional resources will enable you to improve your organization's CMDB understanding and knowledge base.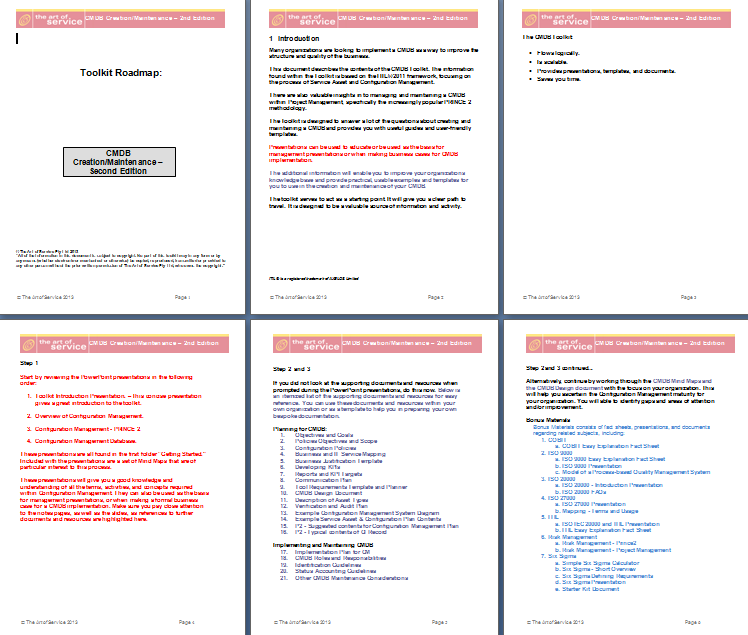 The Complete Toolkit Includes:
Step 1 Getting Started
Toolkit Roadmap -CMDB Creation & Maintenance.doc
Toolkit Introduction Presentation.ppt
Overview of Configuration Management.ppt
Configuration Management - Prince2.ppt
CMDB Mind Maps.doc
Configuration Management Database.ppt
Step 2 Planning for CMDB
Objectives and Goals.doc
Policies Objectives Scope.doc
Configuration Policies.doc
Business and IT Service Mapping.doc
Business Justification Template.doc
Developing KPIs.doc
Reports and KPI Targets.doc
Communication Plan.doc
Tool Requirements Template and Planner.doc
CMDB Design Document.doc
Description of Asset Types.doc
Verification and Audit Plan.doc
Example Configuration Management System Diagram.doc
Example Service Asset & Configuration Plan Contents.doc
P2 - Suggested contents for Configuration Management Plan.doc
P2 - Typical contents of CI Record.doc
Step 3 Implementing and Maintaining CMDB
Implementation Plan for CM.doc
CMDB Roles and Responsibilities.doc
Identification Guidelines.doc
Status Accounting Guidelines.doc
Other CMDB Maintenance Considerations.doc
Plus 17 Bonus Documents
Purchase The CMDB Creation and Maintenance Toolkit – Second Edition Risk-Free Today!
The moment you purchase the collection, the factsheets, presentations, and tools included above will be available to you through a simple download!
Need help justifying your investment?
It took us 80+ man-hours to produce The CMDB Creation and Maintenance Toolkit: analyzing, processing, selecting, editing, and building the "flow" from the countless documents and data we have produced over months (at least $50/hour that comes to over $4,000 of time).
In total, the end result—The CMDB Creation and Maintenance Toolkit – Second Edition— reflects over a full-time employee's fortnight work.
At the Art of Service, we know how important your time is for you and we also understand that nobody can substitute you in certain scenarios. This is why we give you the results without you having to do all the legwork; we do the researching and the analysis, and the collating of the information we find.
All you have to do is take the outcome of all that work and use it as part of your project to make it unique to your job, project, or task at hand in a way that only you can do.
Purchase now and you have an instant ROI by having the right information at your fingertips and saving hundreds and hundreds of hours of research time.